Pregnancy Chiropractic In Denver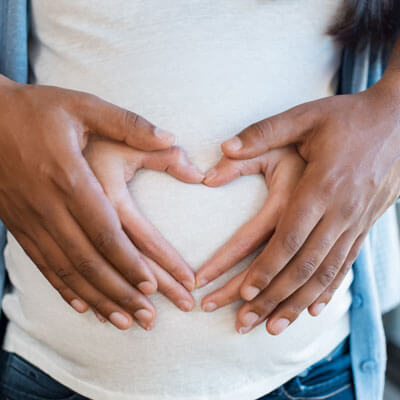 At Revive Chiropractic, we offer exceptional prenatal care to help moms and babies grow and develop well. We're certified in specific techniques that prioritize your needs during this sensitive season. Through our gentle, hands-on care, we can help you feel more comfortable and function at your best while preparing for a better birth experience.
Safe and Comfortable Care
Chiropractic care is one of the safest and most advantageous choices expecting moms can make. Dr. Courtney keeps adjustments super gentle, conforming to each patient's needs. We keep adjustments relaxing and safe with special pillows with hollow sections in the middle so you can lie face-down on the table without putting pressure on your belly.
NEW PRACTICE MEMBERS

Keeping Babies in the Right Place
During pregnancy, your body releases hormones like progesterone and relaxin to prepare for the delivery process. These hormones relax your ligaments and can lead to hyper-mobile joints. Some women then experience joints popping out of place or hip bones getting stuck in the wrong position.
When this happens, tension in the hips and uterus causes discomfort and reduced mobility for the mom, while also limiting the space available for the baby. As a result, the baby can turn into the wrong position, increasing the risk for a complicated birth or even a C-section.
Dr. Courtney completed an extra 14-month training program to be certified in the Webster Technique. This method relieves tension in the ligaments that hold your hips in place. As the hips return to the proper place, moms feel better, and babies are less likely to end up in a breech presentation.
What to Expect
We recommend coming in once a week throughout every trimester so we can stay on top of all the changes your body is going through.
It's a good idea to continue coming in weekly for the first three or four months postpartum. Progesterone and other hormones are still loosening your joints during this critical season. It's important that they all stay in the right place so you can heal well from birth.
At your consultation, we'll talk about your history and experience with this pregnancy and any previous pregnancies. We'll give your first adjustment that same day. If necessary, we have a network of trusted healthcare professionals to aid with your healing process after giving birth.
Schedule Your Appointment Today
Your child's wellness starts now. Book your first visit to make sure you're maintaining maximum health every week.
CONTACT US

Pregnancy Chiropractic Denver, Edgewater, Lakewood, Wheatridge CO | (303) 993-3414