Meet Dr. Courtney Tate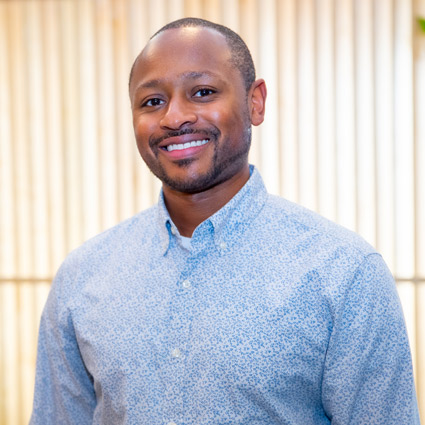 Dr. Courtney was born and raised in Birmingham, AL. He graduated from Auburn University with a degree in Microbiology and a desire to help people become the best versions of themselves. During an internship in a chiropractic & physical therapy office, Dr. Courtney witnessed amazing transformations and truly enhanced lives and knew his calling was to chiropractic.
Dr. Courtney attended the largest chiropractic school in the world, Life University. In addition to practicing and perfecting chiropractic techniques, he also discovered a passion for helping pregnant and pediatric populations. He is certified in the Webster Technique, focused on restoring the integrity of a mother's pelvis. It allows for more comfortable and safer births for both mom and baby. He also completed a 14-month, 168-hour training program specifically focused on addressing challenges facing pregnant and pediatric patients. This makes him one of the most experienced and well-trained practitioners in Edgewater.
EXPLORE OUR SERVICES

From AL to CO
Like many of us in Edgewater, Dr. Courtney found his way to Colorado seeking the serenity and solace of nature. He worked at a practice in Boulder for 3 years to build up his experience and hone his expertise. In Edgewater he found a young, energetic and vibrant community that he felt would be a perfect match for his skill sets. He looks forward to continuing to get to know the fascinating people in this beautiful place.
In his free time, Dr. Courtney enjoys hiking and exploring with his dog. He can also often be found shooting hoops at the basketball court. Dr. Courtney cannot escape his passion – he truly enjoys giving talks in community settings and educating people about the benefits of chiropractic care.
A Unique Approach
Staying true to his dedication to long-term wellness, Dr. Courtney values the trust and relationships built with practice members. He understands that while physical concerns bring people into the office, the emotional connections formed keep them coming back. He believes that these relationships are an essential component in one's journey toward healing.
Contact us today to book your appointment.

Dr. Courtney Tate | (303) 993-3414